Internationally renowned hospitality group Accor introduces its first MGallery Residences in Thailand on Phuket's prime sunset coast of Kamala Beach
PHUKET, THAILAND — MGallery Residences MontAzure on the paradise island of Phuket got off to a celebratory start with its official ground-breaking ceremony on 15 July 2022. The auspicious ceremony was presided over by the Vice Governor of Phuket, Mr Anuphap Rodkwan Yodrabum (middle), along with top company management: Ms. Patchara Nithivasin, Shareholder, MontAzure (2nd right), Mr. Pichet Nithivasin, Shareholder, MontAzure (far right) and Mr. Setthaphol Boottho Executive Director at MontAzure (2nd left). Also present at the ceremony were representatives from both Shma and SODA, award-winning design and architecture consultancies for the project.
The project, valued at THB 2,000 Million, is scheduled to complete the foundations by December 2022 and start on the superstructure by early 2023. The project is expected to be completed by the end of 2024. In line with market sentiment, the market for luxurious and high-end residences in Phuket is looking at a revival and continuous growth. This is fuelled by real demand from local and foreign investors.
On Phuket's Kamala Beach, this spectacular new lifestyle destination is part of the MontAzure development that covers 72 hectares of the mountain to beachfront land on the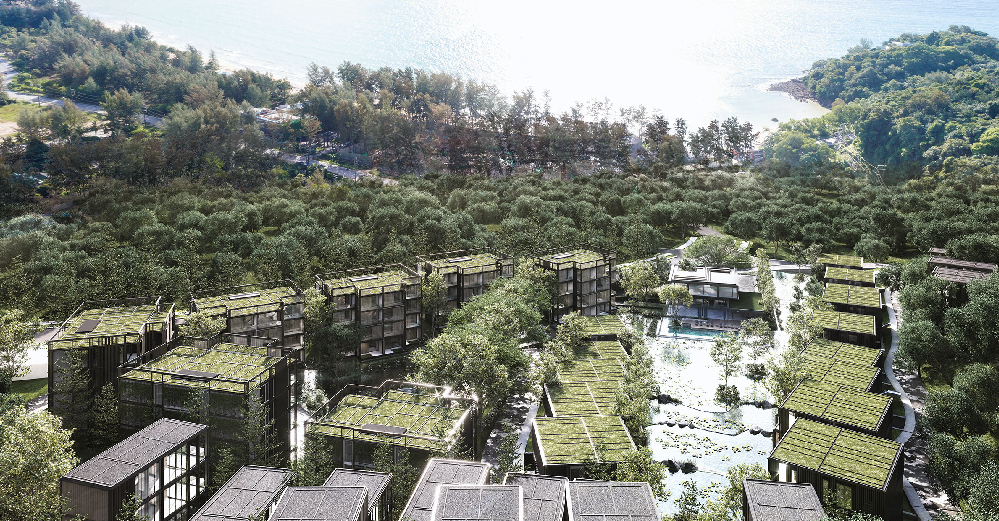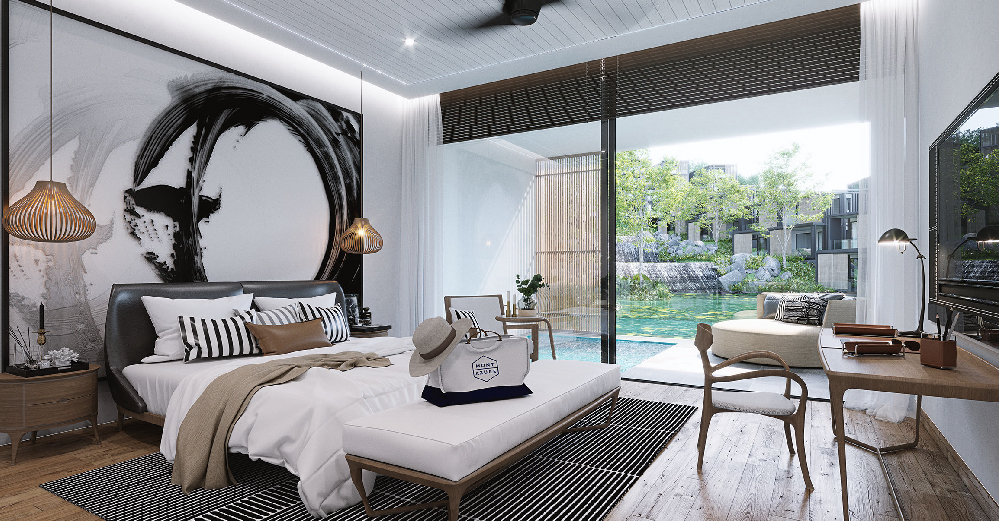 island's stunning sunset coast. Managed by internationally renowned hospitality group Accor, the very first MGallery Residences in Thailand, MGallery Residences MontAzure is part of a stylish, low-density residential resort community nestled in landscaped, tropical gardens fronted by the Andaman Sea. With this new property, MGallery, one of Accor's premium brands furthers its storied collection of boutique hotels and residences where each property is unique with a story to tell. Currently, the brand lists 101 hotels in 28 countries, all in prime locations.
The 236-key MGallery Residences MontAzure will feature spacious studios and one-bedroom residences starting from 47 square metres, offering a selection of views of the lake, the hillsides and the Andaman Sea.
"We are pleased to announce the progress of this project. The first MGallery Residences in Thailand could not have had a more excellent location," says Mr. Setthaphol Boottho, Executive Director at MontAzure. He adds, "The market for luxurious and high-end residences in Phuket is looking at a revival and continuous growth fuelled by real demand from local and foreign investors. We believe that this well thought out and well-designed project that the Residences are a part of will attract high net worth local and international investors: people looking for premium beachfront luxury residences in a private and exclusive location. This stunning new residential oasis merges seamlessly with the environment and offers state-of-the-art facilities with MGallery's cutting-edge service and privacy."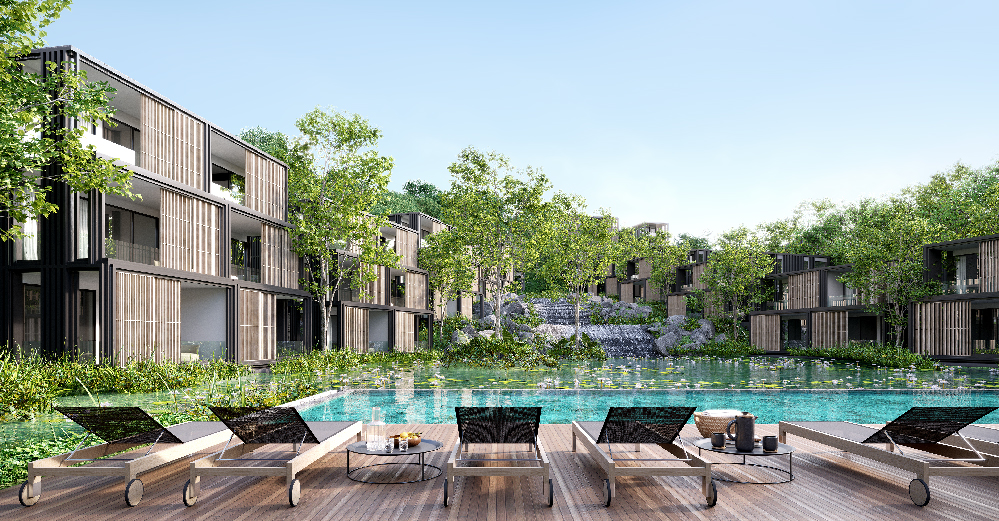 Nestled in 16,000 sqm of gardens, lakes and mesmerizing water features that cascade through the MontAzure hillside property, this low-density tropical lifestyle escape allows residents to immerse themselves in nature in absolute privacy. In addition, the residents have easy access to world-class facilities along Kamala Bay as well as its stunning white sand beaches.
With its contemporary design, aesthetic and stylish interiors, every unit will come complete with all modern amenities and conveniences. Enhancing the luxury experience will be the premium services that are a signature of MGallery and Accor. In addition, owners of the units will have access to Accor's VIP privileges and offerings across its global collection of hotels and resorts through the Accor Ownership Benefits Program. Benefits include Platinum status in Le Club AccorHotels, a VIP reservation desk, automatic upgrades on arrival and 20 per cent off the best available rate at more than 4,800 hotels and resorts worldwide.
The various recreational facilities at MontAzure reinforce the project's underlying 'back to nature' theme. From the starlight and green decks, residents can take in spectacular views of the mountain, the horizon, dramatic sunsets and the star-lit night sky, while the relaxation pavilion, jogging track, yoga platform and nature trail allow residents to unwind and plan their fitness routine. Families with small children have several dedicated leisure facilities, including a fun club, a lap pool and a free-form pool with a kid's pool. In addition, MGallery Residences MontAzure will have an all-day dining restaurant, pool bar, fitness centre and clubhouse.
Prices at MGallery Residences MontAzure start from THB 7.7 million with freehold ownership and rental program. For more information, please visit www.montazure.com, email sales@montazure.com or call +66 93 624 8800.
About MontAzure
MontAzure mixed-use development is a joint venture between three of the most notable property and hotel investment groups in Asia: ARCH Capital Management (Hong Kong & Shanghai), The Narai Group (Thailand), and Philean Capital (Singapore) part of Pontiac Land Group. The development spans some 178 acres (72 hectares) of mountainside to beachfront land, offering permanent and second home buyers a unique natural setting that is being sensitively developed to include exclusive beachside condominiums, a luxury hotel, high-end villas, as well as a range of hotel and retail offerings, a retirement community, and a choice of upscale beach clubs.
About MGallery
MGallery is where captivating stories are lived and shared. With more than 100 storied boutique hotels around the world, each MGallery tells a unique story inspired by the destination. From bespoke design and sensorial mixology to wellbeing dedicated to women, MGallery hotels are places where guests can discover the very best the world has to offer. MGallery guests are inspired and enriched through their delightful visits to these stylish, thoughtful and decidedly singular hotels. Well-known properties in the MGallery collection include Hotel Molitor Paris, INK Hotel Amsterdam, Queens Hotel Cheltenham in England, Santa Teresa Hotel Rio de Janeiro, Hotel Lindrum Melbourne in Australia, Muse Bangkok Langsuan in Thailand, and Hotel des Arts Saigon in Vietnam. MGallery is part of Accor, a world-leading augmented hospitality group offering unique and meaningful experiences in 4,800 hotels, resorts, and residences across 100 countries.
For the press for more information, please contact: Vivaldi Integrated Public Relations
Tel. +66 (0) 2 612 2253 or Website: www.vivaldipr.com
Pattaranit Imamphai (Poom) Tel. 089-893-4819
Email: pattaranit.i@vivaldipr.com
Sarobol Phudechapirom (Kwan) Tel. 097-232-2429
Email: sarobol.p@vivaldipr.com